ABOUT DEACON JIM
Greetings my brothers and sisters,
  My name is Jim Wright, and I am a Permanent Deacon recently assigned to St. Angela Merici Catholic Church, a newly established parish community (2007) in Sienna Plantation, for the Archdiocese of Galveston/Houston in Houston Texas. My previous ministry assignment (13 years) was for St. Clare of Assisi Parish, Houston. I have also been the Director of the Christian Renewal Center (retreat center) in Dickinson Tx. from August 2008 until February 2014. 

But let me begin by introducing to you the one person, without which I would be incomplete;  My best friend, my closest confidant, my most valuable critic, the mother of my children, and the love of my life, my wife Christy.

Christy and I began our life journey together as husband and wife in the late 60s in Cumberland Maryland, where we both were born and grew up.   In the early 70s we both had a profound conversion experience, and began to live our lives, from that time on as servants of the Lord.  In the mid 70s we left Maryland with our two daughters, Jamela and Heidi, and moved "out west" to Blackfoot, Idaho.  It was there, in the Diocese of Boise, that we entered the diaconate training program in 1977, (wives were required to complete training with their husbands) and we began our formal formation in Scripture, Theology, Spirituality, and Pastoral Leadership to prepare us for our lives as servant leaders in the Catholic Church.

We were nearing the end of the three year diaconate training program, when the program directors realized that somehow, incredibly, they had missed the fact that I was too young to be ordained upon the completion of my training.   How much too young?  The answer of "eight years too young" was pretty hard to swallow at first.  But, God teaches us some of our most valuable lessons usually through trials and hardships.   And those extra years of classes, workshops, and formation in ministry and spirituality ended up being a blessing in disguise for both Christy and me.   As our greatly extended study and experience in "Diakonia" (servant) ministry to the Church ended up being much more comprehensive and enriching than we could have ever imagined. 

But then, after only seven years of formation, Bishop Sylvester Trienen decided to grant me a one year dispensation from age, and I was ordained to the Order of Permanent Deacons on June 7, 1984 at ONLY 34 years of age.

And then in June of 1986, Christy and I, together with our daughters, packed up our belongings and moved to Houston Texas in search of a warmer climate.  And it has been here in the Archdiocese of Galveston/Houston that Christy and I have continued to grow in our faith, and serve the People of God until now.   
 
Have you heard about the amazing (WIKTOR) diet that literally saved my life?
(click) here to discover more.
Wiktor Szostalo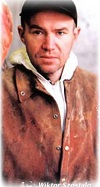 Wiktor (pronounced Victor) is a dear friend of Christy and mine.
He is an artist and sculptor from Poland, with studios in both the US and Poland.
His amazing sculptures have been exibited in many churches and historical sites world-wide.
Wiktor has produced several wonderful works of art for parishes in HOUSTON.
St. Lawrence in Sugar Land and Christ the Redeemer in Houston to mention two.
Visit Wiktor's website and click on "The Crucifix" to sample his work at Christ the Redeemer Catholic Church.
(tour Wiktor's website)